Med Away Disposal Services offers safe, secure, and convenient Medical Waste Disposal Services to most of Georgia and areas in Alabama.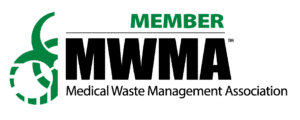 We offer:
Secure pickup service of biomedical waste for healthcare facilities, medical practices, orthopedic clinics, universities, rehabilitation centers, nursing homes, schools, funeral homes, prisons, jails, detention centers, tattoo parlors, dental practices, and many other businesses.
We can accept the following types of biomedical waste:
Regulated Medical Waste (RMW)
Pathology
Sharps
Pharmaceuticals
Trace chemotherapy
Other medical and infectious waste
Flexible pick-up frequencies to suit your needs:
Daily
Weekly
Bi weekly
Monthly
Quarterly
Or another schedule that will work for you – we can do it!
Online training for your staff to help you stay compliant with OSHA, HIPAA, HazCom, and Sharps regulations.
Non-binding contracts where you only pay per container per service with no overhead.
We value our customers greatly. We will custom fit a Medical Waste Disposal Services program for your facility, large or small. If your needs change, we can change with them. We want to make sure that our clients are in compliance with the disposal of their waste. We are fully certified to transport medical waste in Georgia and Alabama.
With our Medical Waste Disposal Services, we take legal possession of your medical waste when we pick it up. Your office will not be held liable for anything that happens to your waste once it leaves your facility. We transport red bag waste to a certified autoclave facility. We transport pathogens, pharmaceuticals, and trace chemotherapy to an incineration facility.
You will not be held in a binding contract for our Medical Waste Disposal Services. We require a 30-day notice at any time to get out of our contract. Some companies have 3 to 5 year automatically renewing contracts. They also make you pay every month, even when you are not serviced. You must give them a 60-day notice sometime in the last 6 months to get out of their contracts. They often have a clause in their contract that lets them raise their rates on you at any time. Do you want to be treated fairly?
We can help you. Let us know your expiration date. Then, we can make sure that you know when it is time to get out of your contract. Coming into an agreement with us will lower your cost and give you better customer service. We are a local, family-owned company.