Why Choose A Local Company?
Every day more and more people just like you are choosing to support local companies over nationally-owned companies, because they've taken the time to learn the facts.
Supporting locally-owned businesses over national companies is almost always the right choice. If you're considering which medical waste disposal is right for you, here are some other facts you'll want to consider:
FACT: When you buy from a local company, a percentage of that sale stays in your community and is recycled over and over again, compared to buying from a national company.
FACT: National companies don't create jobs, they actually reduce the number of jobs in your community. For every two new jobs a national company "creates," three jobs are lost from one of your local companies.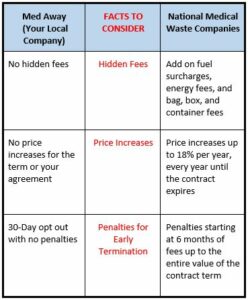 FACT: Local governments often give tax incentives to attract nationally-owned companies to their communities. But if these corporations are paying less in taxes it can only mean that local residents are paying more. When you buy from local companies it lessens individual tax burdens and creates up to 75% more tax revenues for your community.
FACT: In tough economic times while local companies are doing everything they can to remain a viable option for their communities, national companies often close their local facilities in favor of more profitable locations.
Let us Prove to you that we can provide you with a better service for far less than you are currently paying!
Prices that are 20% – 30% lower than our national competitors, for the exact same services.
If you are unhappy with our services for any reason, you have a 30-day cancellation clause with NO penalty.  If we cannot make you happy, you are free to go elsewhere!
No hidden fees, all-inclusive pricing and invoices you can actually understand.
Flexible pickup schedules that meet your ever-changing needs.
Immediate responses and a solution to your problem within the same day of your call.
If we're ever late for your regularly scheduled pickup, we'll even pickup for free!