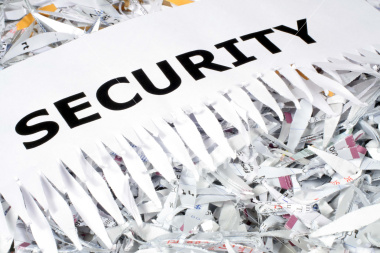 Outsourcing your data destruction needs to a NAID AAA-Certified paper shredding service will protect you from the following risks and give you these benefits at far less cost than shredding your sensitive information yourself:
Risks and Burdens of Personal Shredders
Reconstruction is possible. Shredded paper in your trash only tells criminals what likely contains valuable information.
Cost of the machine, maintenance, your employees' time at their regular salary, electricity, office space (On average, it costs about twice as much as a shredding service).
For legal verification that a document has been properly destroyed. Extra effort is required to provide legal verification.
In-house shredders shred too slowly, making it too time-consuming to watch employees. If they are not happy with their employer, they are less likely to do their job properly and more likely to misuse the sensitive information that they come into contact with.
Employee fraud is too common these days. In many cases, the employees assigned to do the shredding work have the least concern for proper disposal of that sensitive information. Background checks are rarely performed.
Trash placed outside for pickup is legally "public property" (California v. Greenwood). Whatever is "public property" is not protected under the 4th Amendment (Katz v. United States). Nothing prevents people from rummaging through your trash and taking your shredded paper with sensitive information when it is thrown away as regular trash.
Safety and Ease of Shredding Services
Mobile shredding services mix your shredded paper with thousands of pounds of shredded paper from other clients before taking the load back to a locked warehouse. Loads of 20 tons of shredded paper are sent off to recyclers several times per week. Reconstruction is not possible.
The cost of a shredding service can range from 10 cents per pound to 40 cents per pound. Considering employees wages and machine cost/upkeep/depreciation, shredding yourself costs you 4 to 5 times as much. More cost efficient.
Certificate of document destruction provided.
Shred trucks have a built-in monitor that allows you to watch the paper being fed into the shredder. It only takes 4 to 5 minutes to shred 300 pounds of paper.
For NAID AAA-Certification, shredding companies are required to administer thorough background checks and drug tests on all potential employees before hiring. Every employee undergoes annual drug tests after they are hired. Background checks given to all employees.
Shredding services mix all of your paper shreds with paper shreds from dozens of other clients and send them away from their locked warehouse to a trusted recycler in loads of more than 40,000 pounds. The contents of the locking container provided to you will never be touched by human hands. Paper shreds are mixed with other clients and sent to a trusted recycler.
Shredding services exist to help you destroy your data and protect your business from these risks in an economic and environmentally friendly way. We will provide you with a certificate of destruction, which gives you verification you have taken the due diligence to destroy your sensitive information. River Mill Data Management recycles everything possible. Please contact us for more information about our shredding services and how they could benefit your company.
To learn why it is important to have a NAID AAA-Certified secure document disposal company, watch this video.

Here are River Mill Data Management's information disposal services:
Helpful Links:
What is sensitive information?