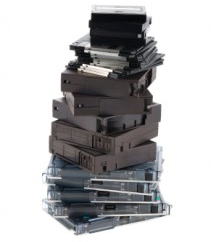 Digital storage methods give you the ability to save storage space and access data quickly. It also puts your sensitive information in a much smaller package and makes stealing that information easier for would-be identity thieves. Outsourcing your digital storage media destruction tasks to a shredding company is the best way to ensure that you permanently delete data from your electronic resources. Deleting files could not possibly be any easier than this and give you as much security.

River Mill Data Management can also provide destruction services for other forms of media, such as:
CD's
DVD's
Floppy disks
Computer backup tapes
Video tapes
Cassette tapes
X-ray film
River Mill Data Management can completely and securely destroy your digital media with our top of the line mobile shredding service. We guarantee that your media will be destroyed.